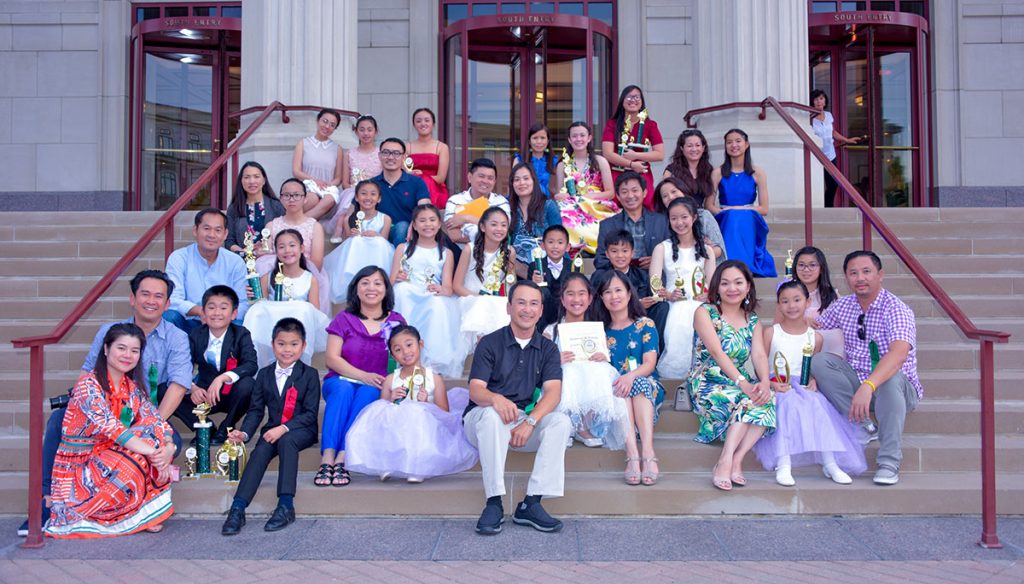 LCP invaded Carmel, Indiana! 17 young pianists represented LCP to compete at Carmel Klavier Piano International For Young Artists from June 26 through June 30, 2019. Together with young pianists and faculties from China, Colombia, Turkey, Canada, Mexico, South Korea, Italy, and USA, they competed for 5 intense days.
In conclusion, our LCP teams brought home 37 trophies. In Concerto Categories, where pianists performed one or more movements of a concerto, which could be over 20 minutes long, Hong An Hoang is the 1st Prize winner in Advanced B and is the overall Grand Prize winner with perfect scores from 2 out of 3 adjudicators. Ashley Dixon won 1st Prize, Bella Dang won 2nd Prize, and Rachael Vu won 3rd Prize in their respective categories. In Ensemble Categories, our youngest pianists: Angelina Nguyen, Alexander Vu, Ashley Tran, and Skyler Tran, won their first ever 1st Prize trophies. In the Duet Categories, our 3 young duet teams (Alexander Vu, Ashley Tran, Angelina Nguyen, Skyler Tran, Bella Dang, and Sterling Tran) won one 1st Prize and two 2nd Prizes. In Solo Categories, which is the toughest category and after 2 live rounds, Sterling Tran won 2nd Prize in Solo Intermediate A1.
A huge congratulations to our young pianists!!!
Grand Prize Advanced B Concerto – Hong An Hoang
1st Place Advanced B Concerto – Hong An Hoang
1st Place Intermediate B Concerto – Ashley Dixon
1st Place Elementary Ensemble – Angelina Nguyen, Skyler Tran, Ashley Tran, and Alexander Vu
1st Place Elementary Duet – Ashley Tran and Alexander Vu
2nd Place Intermediate A1 Solo – Sterling Tran
2nd Place Intermediate A Concerto – Bell Dang
2nd Place Elementary Duet – Angelina Nguyen and Skyler Tran
2nd Place Intermediate A Duet – Bella Dang and Sterling Tran
3rd Place Intermediate B Concerto – Rachael Vu
3rd Place Intermediate B Duet – Rachel Vu and Hazel Vuu
3rd Place Advanced Duet – Ashley Dixon and Elizabeth Marana
3rd Place Intermediate Ensemble – Rachel Vu and Hazel Vuu
3rd Place Advanced Ensemble – Ashley Dixon and Elizabeth Marana
Honorable Mention Intermediate Ensemble – Bella Dang, Sterling Tran, Jennifer Vu, and Tramy Nguyen
Honorable Mention Intermediate Ensemble – Michelle Ho and Breanna Nguyen
Honorable Mention Intermediate A Duet- Jennifer Vu and Katelyn Vo
Honorable Mention Intermediate B Duet- Michelle Ho and Breanna Nguyen
Honorable Mention Intermediate B2 Solo- Hazel Vuu
Honorable Mention Advance A Concerto – Nicole Ho
Honorable Mention Intermediate A Concerto – Sterling Tran